In order of publication:
The Marx Sisters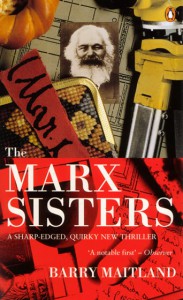 First published : 1994 Hamish Hamilton/Penguin, UK; 1999 Arcade, USA
Jerusalem Lane is a little piece of Dickensian London untouched by development, its inhabitants mainly refugees from pre-war central Europe. But could elderly Meredith Winterbottom really have been killed for the politics of another age?
As DS Kolla and DCI Brock delve into the Lane's eccentric melting pot, past and present interlink in unexpected ways. What connects Mrs Rosenfeldt and Adam Kowalski to a smooth property developer and an American academic? And what is Meredith's son Terry up to? Not to mention the dottily Marxist sisters. Could this be a recipe for murder?
---
The Malcontenta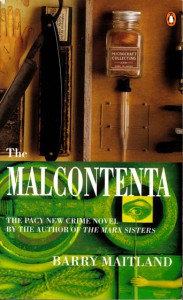 First published : 1995 Hamish Hamilton/Penguin, UK; 2000 Arcade, USA
For DS Kathy Kolla the chance to investigate the unnatural death of a physio at the exclusive Stanhope House Clinic seems the ideal opportunity to leave behind more mundane police duties. Especially when what at first seemed suicide or accidental death is clearly more complicated. A cover-up to shield the clinic's illustrious clients, or murder?
So Kolla is not at all pleased when she is abruptly taken off the case, and turns to DCI Brock for help. But their unofficial inquiries flounder in the mire of corruption as the violence behind the clinic's respectable face escalates out of control.
---
All My Enemies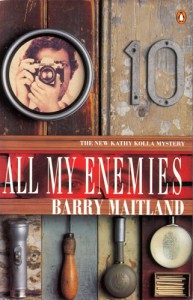 First published : 1996 Hamish Hamilton/Penguin, UK
The phone call comes on a Sunday, the day before homicide detective Kathy Kolla is to start her new job at New Scotland Yard, Serious Crimes Branch. But the grotesque murder that it heralds in a peaceful London suburb takes no account of the day of rest and promises a dramatic start to Kathy's new life.
In fact, dramatic is the word when her only – improbable – lead draws her to an amateur drama group. As Kathy investigates further she is lured into a piece of theatre over which, increasingly, she has little control. And as the show unfolds, a plot of brilliant complexity is revealed, escalating with gathering suspense to a climax in which Kathy's own painfully hidden past plays a shocking role.
---
The Chalon Heads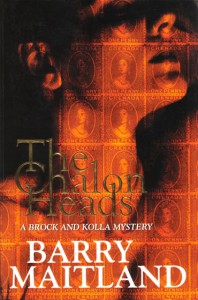 First published : 1999 Orion, UK; 1999 Allen & Unwin, Australia; 2001 Arcade, USA
When Sammy Starling, a former London gangster with a passion for collecting, discovers his beautiful young wife is missing, he calls DCI David Brock for help. Ten years ago Starling's evidence for Brock in a case of police corruption put a couple of cops away – now one of them is getting out. And getting even?
As this investigation proceeds, Brock is now the one under suspicion. His team is disbanded and DS Kathy Kolla is unwillingly reassigned. But now she needs to know what links Sammy Starling's absorption in philately, her new boss's obsession with two legendary forgers, and Eva's disappearance. And how will Kolla ever find the answers to this puzzle of kidnapping, murder and revenge?
---
Silvermeadow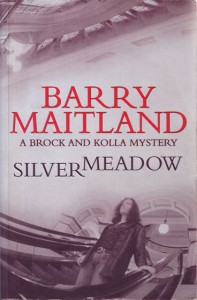 First published : 2000 Orion, UK; 2000 Allen & Unwin, Australia; 2002 Arcade, USA
Silvermeadow, the glossy, huge new shopping mall on the outskirts of London, is not what it seems. A young woman is found dead, wrapped in plastic, apparently crushed in the rubbish compactor; the most vicious bank robber wanted in England has just been seen there; and a homeless boy has also been discovered dead in bizarre circumstances.
Dark secrets are being hidden in the depths of the super-mall. And for DCI David Brock and DS Kathy Kolla of Scotland Yard, there are too many dead ends in their most frustrating and dangerous investigation yet.
---
Babel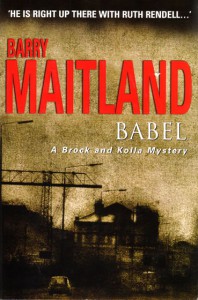 First published : 2002 Orion, UK; 2002 Allen & Unwin, Australia; 2003 Arcade, USA
Professor Springer, one of Britain 's leading philosophers, is brutally murdered on the steps of a London university. The brilliant duo DCI David Brock and DS Kathy Kolla return to solve the crime.
Professor Springer was well-known for his stand against fundamentalism, but was that reason enough to kill him? David Brock and Kathy Kolla start looking for answers in London 's Arab communities, but perhaps Springer's enemy can be found closer to home. As suspicions fall on the factions within the university, Springer's colleague, the Professor of Genetics, becomes involved. Is he as dangerous and unethical as he seems?
---
The Verge Practice
First published : 2003 Allen & Unwin, Australia; 2004 Arcade, USA
Following the murder of his young wife, Charles Verge, world famous London architect, disappears without a trace. After four months of dead-end investigations, Detective Chief Inspector Brock and his team are called in to achieve the impossible: to find fresh leads and overlooked clues and to finally put an end to the much-discussed Verge mystery. Was this a crime of passion and has Verge escaped to Spain, or even Sydney, as the public sightings suggest? Or is Verge already dead, a victim of the murderer? From the suave world of international architecture to the backstreets of Barcelona, the only thing missing is Verge himself.
In their own often unorthodox style, DCI David Brock and DS Kathy Kolla manage to unlock the secret that has perplexed and intrigued both the police investigation and the public imagination.
---
No Trace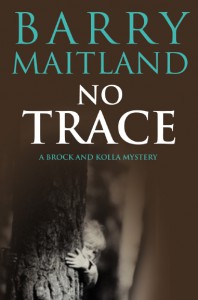 First published : 2004 Allen & Unwin, Australia: 2006 St Martin's Press, USA
Within an unconventional artists' neighbourhood centred on Northcote Square in London, Detective Chief Inspector David Brock and Detective Sergeant Kathy Kolla engage in their most compelling case yet. They need to find missing six-year-old Tracey Rudd, the third child to be abducted in similar circumstances in recent weeks.
Tracey is the daughter of the notorious contemporary artist Gabriel Rudd, best known for a grotesque work called 'Dead Puppies'. Tracey's grandparents accused the self-absorbed Rudd of responsibility for the suicide of Tracey's mother five years ago, and now hint at his complicity in his daughter's disappearance.
---
Spider Trap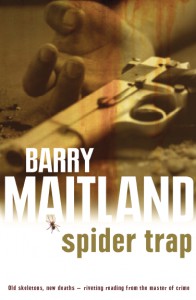 First published : 2006 Allen & Unwin, Australia
Skeletons are discovered in wasteland behind Cockpit Lane, a poor black area of inner South London, and DCI David Brock and DS Kathy Kolla of Scotland Yard's Serious Crimes Branch are called in to investigate.
The discovery that the victims died during the Brixton riots, over twenty years before, leads Brock and Kolla on a dark and dangerous journey into the heart of the West Indian community in London. It's a journey in which past and present come together in an intricate web of deception and intrigue as Brock encounters a formidable old antagonist, Spider Roach. In a desperate search to find a crucial piece of evidence, Brock and Kolla unwittingly set in train a series of events that erupt in a shocking, violent conclusion.
---
Bright Air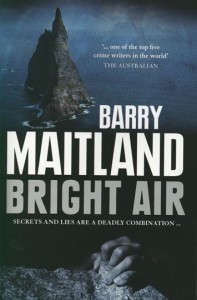 First published : 2008 Allen & Unwin, Australia
After nine novels in the Brock and Kolla series, Bright Air is a stand-alone mystery set in contemporary Australia.
On a cliff-face in New Zealand, two men fall to their deaths. Four years before, another member of the same close-knit group of university climbing friends, the bright and beautiful Luce, also died, supposedly in a climbing accident. As the circle of friends dwindles, two of the surviving members, Luce's ex-lover Josh and best friend Anna, see a new significance in her death. In an attempt to uncover the truth, Josh and Anna follow the trail to Lord Howe Island, where they begin to suspect an island-wide conspiracy to hide what really happened. Had Luce uncovered a dangerous secret – one that was still worth killing for?
---
Dark Mirror
First published : 2009 Allen & Unwin, Australia
In the tenth Brock and Kolla mystery, Marion Summers – red-haired, beautiful and mysterious – collapses and dies in the rarified surroundings of the London Library. When DI Kathy Kolla and DCI David Brock investigate, Kathy finds a reluctant kinship with the victim, who, like Kathy, left a difficult home life when young and struck out to London for independence.
Marion's research on the intriguing, adulterous circle of artists, wives, lovers and muses around Victorian artist Dante Gabriel Rossetti seems irrelevant, until the use of arsenic arises. As Brock and Kolla get closer to the truth, another victim dies an excrutiating death in a library, and it looks like a serial poisoner is on the loose.
---
Chelsea Mansions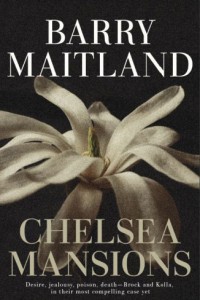 First published : 2011 Allen & Unwin, Australia; 2011 St Martin's Press / Minotaur
The mystery begins at the Chelsea Flower Show in London, where two American tourists are stalked by a killer…
Following Perestroika, vast fortunes were made from the rapid privatisation of Russian state assets by sharp entrepreneurs. When Vladimir Putin came to power and wanted to recover these funds, many of the new billionaires fled to the West, and in particular to London, where generous tax breaks and a reluctance to extradite the oligarchs to their homeland offered a comfortable sanctuary. This is the background to DCI Brock and DI Kolla's latest investigation, in which the multi-millionaire Mikhail Moszynski, with his new Caribbean model wife Shaka and a colourful Russian entourage, has created a glitzy palace in Chelsea Mansions, a grand Victorian residential block in one of London's golden postcodes, to the discomfort of the locals.
---
The Raven's Eye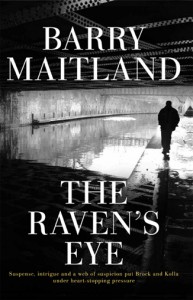 First published : 2013 Allen & Unwin, Australia; 2013 St Martin's Press / Minotaur
A woman dies in her sleep in a houseboat on the Thames; the apparent cause of death, an unflued gas heater. It all seems straightforward, but DI Kathy Kolla isn't convinced.
Unfortunately both Kathy and DCI Brock are up against an aggressive new Commander who seems to have a different agenda, opposing their investigation in favour of emerging technologies over the traditional policing methods. Coppers like Brock and Kolla who have reservations are being squeezed out.
---
Crucifixion Creek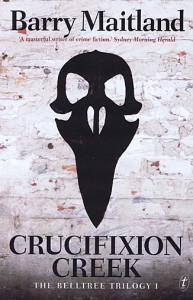 First published : 2014 Text Publishing, Australia; 2015 St Martin's Press/Minotaur, USA
A meth-addicted bikie shoots a woman in a police siege. An elderly couple suicide on the terrace of their favourite café. An unidentified white male is stabbed to death in the street.
Just another day at the office for Sydney homicide detective Harry Belltree. Until he identifies the stabbing victim as his own brother-in-law, and journalist Kelly Pool suggests there's a link between the three incidents.
---
Ash Island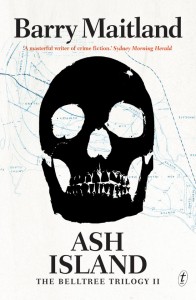 First Published : 2015 Text Publishing, Australia; 2016 St Martin's Press/Minotaur, USA
Detective Sergeant Harry Belltree has a new posting. Away from Sydney, where he was nearly killed by a corrupt colleague and is now an embarrassment. Off to a quiet life in Newcastle.
Or maybe not so quiet. A body's been dug up on Ash Island. It may not be the only one.
Harry's got unfinished business in the area, too. The car crash that killed his parents and blinded his wife Jenny happened not far from Newcastle – and Harry knows it was no accident.
---
Slaughter Park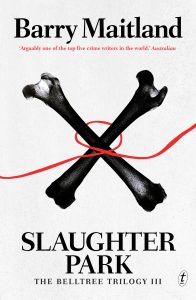 First published : 2016 Text Publishing, Australia
Harry Belltree's obsessive pursuit of justice has cost him everything – his job in homicide, his marriage and his newborn child. He has nothing left to lose, or so he thinks. Then his estranged wife disappears, leaving their baby daughter behind. The police think she has murdered a man. Harry thinks she is in danger.
When several limbs are found dangling from the branches of trees in a suburban park, Harry's former colleagues are pulled off Jenny's case. It's up to Harry to track his missing wife down on his own.
---
The Promised Land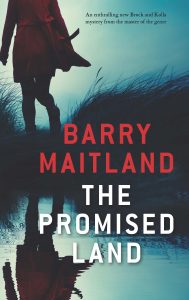 First Published : 2019, Allen & Unwin, Australia

Newly promoted Detective Chief Inspector Kathy Kolla investigates a series of brutal murders on Hampstead Heath. Under intense pressure to find answers, she arrests the unlikely figure of John Pettigrew, a failing London publisher who lives on the edge of the Heath. Pettigrew's lawyer involves recently retired David Brock for advice, and soon the old colleagues, Brock and Kolla, are at loggerheads.
At the heart of the gripping mystery of the Hampstead murders lies a manuscript of an unknown novel by one of the greatest literary figures of the twentieth century. Brock believes that its story will unlock the puzzle, but how?