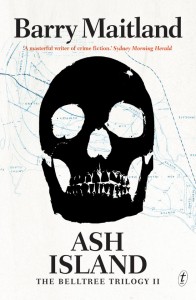 First published : 2015 Text Publishing, Australia; 2016 St Martin's Press/Minotaur, USA.
Detective Sergeant Harry Belltree has a new posting. Away from Sydney, where he was nearly killed by a corrupt colleague and is now an embarrassment. Off to a quiet life in Newcastle.
Or maybe not so quiet. A body's been dug up on Ash Island. It may not be the only one.
Harry's got unfinished business in the area, too. The car crash that killed his parents and blinded his wife Jenny happened not far from Newcastle – and Harry knows it was no accident.
But the other unfinished business is Jenny's longed-for pregnancy. Which means that now, when Harry's investigation starts to get dangerous, the stakes are higher than ever.
Ash Island is the second book of the Belltree Trilogy.
Maitland just gets better. (Weekend Herald)
A terrifically exciting novel. (Canberra Times)
Pacy and punchy. (Sunday Age)