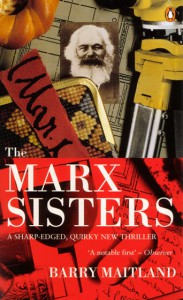 First published : 1994 Hamish Hamilton/Penguin, UK; 1999 Arcade, USA
Jerusalem Lane is a little piece of Dickensian London untouched by development, its inhabitants mainly refugees from pre-war central Europe. But could elderly Meredith Winterbottom really have been killed for the politics of another age?
As DS Kolla and DCI Brock delve into the Lane's eccentric melting pot, past and present interlink in unexpected ways. What connects Mrs Rosenfeldt and Adam Kowalski to a smooth property developer and an American academic? And what is Meredith's son Terry up to? Not to mention the dottily Marxist sisters. Could this be a recipe for murder?
Shortlisted for the CWA John Creasey Award for the best first crime novel of 1994.
One of the most intelligent, intriguing and well thought-out debut crime novels I have read for a long time. (The Times, UK)
The Marx Sisters is a well-wrought, well-paced, original and elegant crime mystery. (Australian Book Review)
A clever, flavorsome debut with a particularly deft knack of pulling the rug out from under you in between chapters, just when you think you're safe. (Kirkus Reviews, US)
His deft depiction of his idiosyncratic characters, his evocative portrayal of Jerusalem Lane and his clever use of Marxist theories and history make this nothing less than a Kapital read. (Publishers Weekly, US)
Cleverly devious, sagaciously cunning and ultimately reassuring. a pleasure to read. ( Los Angeles Times Book Review)
A fine morsel. There is no lack of suspects and no lack of skill in their presentation. More, please, Mr Maitland. (The Washington Times)