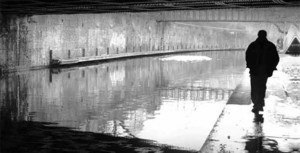 The Brock and Kolla novels were among the first in contemporary crime fiction to feature a male-female police team as the central characters, playing complementary roles in the resolution of their cases. I liked the possibilities for human tension and for giving the reader alternative points of view which they provide, with Brock the older, more experienced man and Kathy his younger acolyte in London's Metropolitan Police.
They first meet up in The Marx Sisters, where Kathy, in charge of her first murder investigation, unexpectedly finds herself accompanied by the Scotland Yard heavyweight Brock, for reasons that only emerge during the course of the story, and which nearly bring Kathy's career to a premature end. In the next story, The Malcontenta, Kathy is frustrated to be posted out of London, and enlists Brock's support to investigate corrupt practices in a naturopathic clinic in the Kent countryside involving senior police officers. From this success she is able to join Brock's elite unit within Scotland Yard's Serious Crime Branch for the next case, All My Enemies, in which we also learn something of Kathy's family history and the childhood turning point of the suicide of her father.
As the stories have continued, the relationship between the two detectives has gradually evolved, with Kathy becoming more self-confident and Brock more dependent on her insights and tenacity. Both Brock, divorced, and Kathy, single, have had relationships with other people during the series, which also features a number of other regular characters both within and outside the police force, but it is the bond between the two main players which provides the central dynamic of the stories.
Each book is set in a different part of London and its surrounds, where I grew up and which I now return to as a partial stranger. I like to think of the detectives waiting for us at the start of each story, ready to lead us into a new and maybe unexpected part of the city. I have always loved the strong part that atmosphere and a sense of place play in crime fiction, and my architectural background contributes to that. The buildings and laneways are, for me, another set of characters in the books. The crime gives the detectives entry into the secret corners of the city, and also opens up the private activities of its people.
Each book also has a particular theme based around some obsessive interest of the characters – naturopathic medicine in one book, philately in another, amateur theatre in another, and so on. Researching these obsessions is for me one of the most intriguing parts of writing the books.