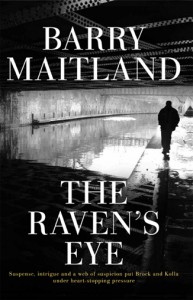 First published : 2013 Allen & Unwin, Australia; 2013 St Martin's Press / Minotaur
A woman dies in her sleep in a houseboat on the Thames; the apparent cause of death, an unflued gas heater. It all seems straightforward, but DI Kathy Kolla isn't convinced. Unfortunately both Kathy and DCI Brock are up against an aggressive new Commander who seems to have a different agenda, opposing their investigation in favour of emerging technologies over the traditional policing methods. Coppers like Brock and Kolla who have reservations are being squeezed out. To make matters worse, there's a new Task Force moving in on their patch, and a brutal killer, Butcher Jack Bragg, to be tracked down and caught. It's one of Brock and Kolla's bloodiest invetigations yet. In this heart-thumping new novel Brock and Kolla are under pressure; it's a clash between the menacing ever-present eye of computer surveillance versus the explosive threat of a man with a meat cleaver and a grudge.
The Raven's Eye is published in Australia by Allen and Unwin, http://www.allenandunwin.com, and in the USA by St Martin's Press / Minotaur, http://us.macmillan.com/minotaur.aspx.
Maitland fills his latest novel with more than one explosion that will leave the reader marvelling at his ability to spin a chilling yarn. Frightening and timely, "The Raven's Eye" displays him at his spellbinding best. (Richmond Times-Dispatch, USA)
Notable for their intricate plots and evocative settings that bring to life overlooked corners of London, the Brock and Kolla novels are among the best crime fiction being written today… This is a gripping police thriller that quickly moves down some unexpected paths. (Canberra Times, Australia)