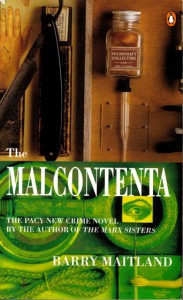 First published : 1995 Hamish Hamilton/Penguin, UK; 2000 Arcade, USA
For DS Kathy Kolla the chance to investigate the unnatural death of a physio at the exclusive Stanhope House Clinic seems the ideal opportunity to leave behind more mundane police duties. Especially when what at first seemed suicide or accidental death is clearly more complicated. A cover-up to shield the clinic's illustrious clients, or murder?
So Kolla is not at all pleased when she is abruptly taken off the case, and turns to DCI Brock for help. But their unofficial inquiries flounder in the mire of corruption as the violence behind the clinic's respectable face escalates out of control.
Joint winner of the inaugural Ned Kelly Award for the best Australian crime novel of 1995.
Solid procedural suspense and a serious subtext concerning the nature of corruption make this new series stand out. (Time Out, UK)
Maitland has a sure touch, and the storyline is complemented by a serious look at the issues of sexism and corruption in the police force. An engaging read. (Sunday Express, UK)
Barry Maitland's captivating The Malcontenta is one of the best-crafted, best-plotted and most convincing British thrillers for decades. (Daily Mirror, UK)
…this delightful book is at once comic and creepy. (The Scotsman, UK)
…an intricately plotted novel with some superbly portrayed characters and enough twists and turns to make Agatha Christie seem somewhat straightforward. The Malcontenta is simply a very superior example of contemporary crime writing. a book that works on many levels. (Sydney Morning Herald, Australia)