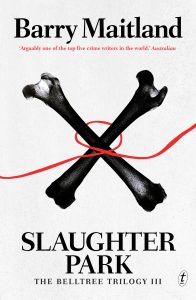 First published: October 2016 Text Publishing, Australia

Harry Belltree's obsessive pursuit of justice has cost him everything – his job in homicide, his marriage and his newborn child. He has nothing left to lose, or so he thinks. Then his estranged wife disappears, leaving their baby daughter behind. The police think she has murdered a man. Harry thinks she's in danger.
When severed limbs are found dangling from the branches of trees in a suburban park, Harry's former colleagues are pulled off Jenny's case. It's up to Harry to track his missing wife down on his own.
And to lay bare, at last, the extraordinary conspiracy that led to his parents' murder.
Slaughter Park is the third and final book of the Belltree Trilogy.
It's an impressive conclusion to an epic tale… Maitland delivers and so much more. (Sydney Morning Herald)
 The trilogy is one of the strongest examples of contemporary crime fiction. (Sydney Crime Museum)
 …this taut and haunting story… the Belltree novels are almost hypnotically compelling. A stunning conclusion to a remarkable trilogy. (Booklist)
 Fans of hard-hitting crime fiction will be sorry to see the last of Harry. (Publishers Weekly)
https:www.textpublishing.com.au/authors/barrymaitland