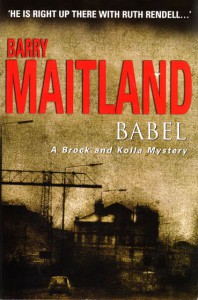 First published : 2002 Orion, UK; 2002 Allen & Unwin, Australia; 2003 Arcade, USA
Professor Springer, one of Britain 's leading philosophers, is brutally murdered on the steps of a London university. The brilliant duo DCI David Brock and DS Kathy Kolla return to solve the crime.
Professor Springer was well-known for his stand against fundamentalism, but was that reason enough to kill him? David Brock and Kathy Kolla start looking for answers in London 's Arab communities, but perhaps Springer's enemy can be found closer to home. As suspicions fall on the factions within the university, Springer's colleague, the Professor of Genetics, becomes involved. Is he as dangerous and unethical as he seems?
Brock and Kolla work closer than ever before, sifting through the clues to find the real killer before further violence erupts.
…as perfect a whodunit as you could possibly wish for. Sublime. (Crime Time, UK)
Maitland gets better and better, and Brock and Kolla are an impressive team who deserve to become household names. (Publishing News, UK)
Babel is thoughtful, erudite, humane – and highly entertaining. What more could a serious crime buff want? (Sydney Morning Herald, Australia)
.makes Babel an instant and deserved winner from start to finish. There is no doubt about it, if you are a serious lover of crime fiction, ensure Maitland's Brock and Kolla series takes pride of place in your collection. (The Australian)
Maitland has always been a notable spinner of mysteries, but his latest case continues to extend his range, depth, and mastery into Ruth Rendell territory. (Kirkus Reviews, US)
Wow. This guy is good. (Houston Chronicle, USA)
Maitland's puzzle becomes more complex by the zigzag, but its rapids are a pleasure to navigate. The reading is easy, the pace deliberate, violence minimal, sexual encounters are elided, the large multiethnic cast is engaging and even the least amiable characters reveal redeeming features. (Los Angeles Times Book Review, USA)