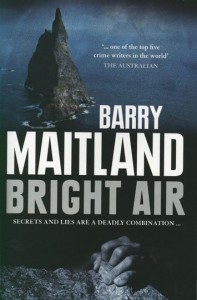 First published : 2008 Allen & Unwin, Australia
After nine novels in the Brock and Kolla series, Bright Air is a stand-alone mystery set in contemporary Australia.
On a cliff-face in New Zealand, two men fall to their deaths. Four years before, another member of the same close-knit group of university climbing friends, the bright and beautiful Luce, also died, supposedly in a climbing accident. As the circle of friends dwindles, two of the surviving members, Luce's ex-lover Josh and best friend Anna, see a new significance in her death. In an attempt to uncover the truth, Josh and Anna follow the trail to Lord Howe Island, where they begin to suspect an island-wide conspiracy to hide what really happened. Had Luce uncovered a dangerous secret – one that was still worth killing for?
Maitland shows his stuff as a writer, belting to a truly gripping conclusion… this is classy stuff and a pleasure to read. (The Age, Australia)
This is a terrific thriller… It's beautifully, leanly written: the characters and places drawn with skill. (Weekend Herald, New Zealand)