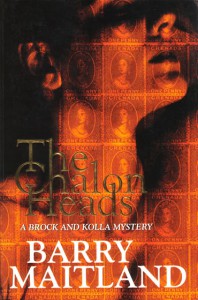 First published : 1999 Orion, UK; 1999 Allen & Unwin, Australia; 2001 Arcade, USA
When Sammy Starling, a former London gangster with a passion for collecting, discovers his beautiful young wife is missing, he calls DCI David Brock for help. Ten years ago Starling's evidence for Brock in a case of police corruption put a couple of cops away – now one of them is getting out. And getting even?
As this investigation proceeds, Brock is now the one under suspicion. His team is disbanded and DS Kathy Kolla is unwillingly reassigned. But now she needs to know what links Sammy Starling's absorption in philately, her new boss's obsession with two legendary forgers, and Eva's disappearance. And how will Kolla ever find the answers to this puzzle of kidnapping, murder and revenge?
For me one of the elements that lifts a crime novel from being average to being extraordinary is the ability of the author to not only surprise me with a clever ending, but to surprise me several times over the course of the book. Maitland is just such an author. The reader is kept guessing all the way through The Chalon Heads, right up to the last page. Maitland's plotting can be compared to the best of Colin Dexter and Michael Connelly. (Deadly Pleasures, US)
An unguessable plot, flowing writing and solid characters – forget the stamps, start collecting Maitlands now. (Morning Star, UK)
Maitland writes astonishingly well, has a wonderful ear for dialogue and sense of place, a finely attuned sense of character development and a captivating and unsettling dark side to his fiction. The Chalon Heads is significantly better than almost all the police procedural novels I've read in recent years. This novel is right up there with the best contemporary crime fiction. (Sydney Morning Herald, Australia)
.the brilliant The Chalon Heads: straight out of a top drawer that Chandler would be proud to open on deranged nights. Maitland can make the counterfeit of fiction feel real, his prose packed with the saturated detail that Henry James called "density of specification". (The Australian)
.the most satisfyingly twisty mystery of the year. (Kirkus Reviews, US)
. a crafty and well-crafted showpiece of the genre. Altogether an intricate and maze-like tale well told and well worth the telling. (Los Angeles Times)